America's Darling:  The Story of Jay N. "Ding" Darling
Press Releases – Screenings and Events – News
Production Photos – Archival Treasures – Contemporary Artists 
Production Photos
(Click image to enlarge)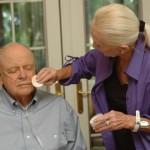 Kip Koss getting the final touches with the help of Brigitte before his interview.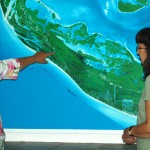 Kristie Anders, Education Director, Sanibel-Captiva Conservation Foundation, helps Marvo's LuAnne Cervelli find her way around Sanibel Island.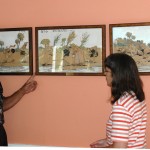 Tony Lapi, President and CEO of 'Tween Waters Inn, and LuAnne Cervelli of Marvo admire Darling's work, "The Big Parade," in the Inn's dining room.
Darling fondly referred to the house he had built just off the Captiva shoreline as the "Fish House."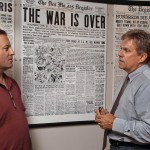 Executive Producer, Sam Koltinsky, (right) meets with Perry Beeman, journalist at the Des Moines Register, to discuss Ding Darling's career and cartoons. (Courtesy Des Moines Register, Des Moines, Iowa)
LuAnne Cervelli scanning some of the
archival treasures we have discovered.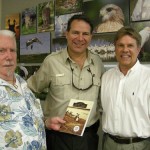 Executive Producer, Sam Koltinsky, meets with Charles LeBuff (left), author of the new book, J. N. "Ding" Darling National Wildlife Refuge, and Refuge Manager Paul Tritaik during "Ding" Darling Days at the Refuge.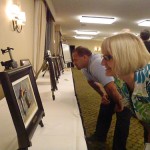 Birgie Vertesch, Executive Director, "Ding" Darling Wildlife Society, examines Jim Hautman's Duck Stamp Contest art during "Ding" Darling Days in Sanibel, Florida.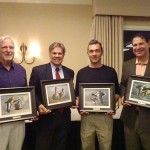 L-R: Don Wildman, Samuel Koltinsky, Jim Hautman, Paul Tritaik–hold Jim Hautman's award-winning Duck Stamp Contest art.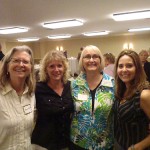 L-R: Chelle Walton, Wendy Erler Schnapp, Birgie Vertesch, and Toni Westland enjoy themselves at the "Ding" Darling Wildlife Society Reception during "Ding" Darling Days.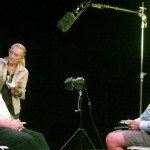 Larry Schweiger, President & CEO of National Wildlife Federation, getting ready to go on camera.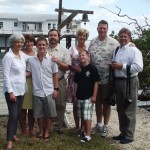 Kip's family group enjoys their visit to the Fish House with Executive Producer Samuel Koltinsky. L-R: Andrea, Jennifer, Chris, Jonathan, Christy, Seth, Hal and Sam.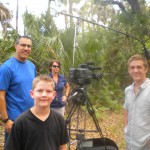 Getting set for the interviews, Tony, Sheri, Seth and Chris (Ding Darling's great-great grandchildren).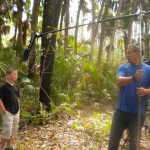 Tony adjusts Seth's boom mic.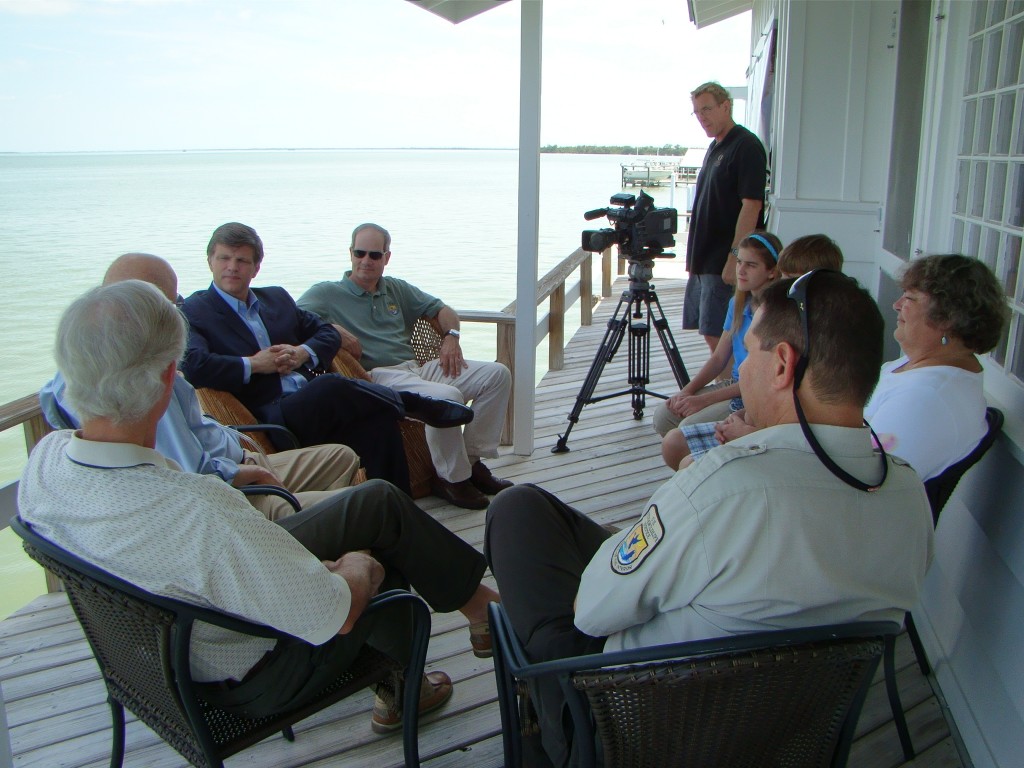 Kip Koss shares some of his favorite stories of the times he spent at the Fish House with his grandfather, "Ding" Darling.  L-R: Dr. Mark Madison, Douglas Brinkley, Kip Koss, Dr. John McCabe, Paul Tritiak, Kristie Anders, Cameron Carstens, (hidden), Calina Carstens, and Tim Kenny.   Photo — Sheri Coleman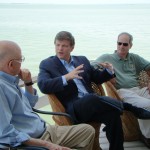 L-R: Kip Koss,  Dr. Douglas Brinkley, Dr. Mark Madison discuss Ding" Darling on the deck of the Fish House.   Photo — Sheri Coleman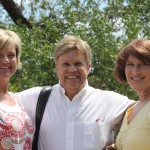 Sam meets Kip Koss's daughters, Cristy (l) and Jennifer (r).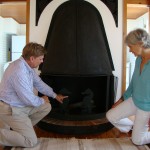 Sam and Andrea Koss discuss the Sea Horse designs in the Fish House fireplace.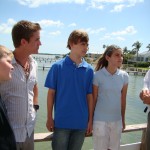 Sam speaks with (from left to right) Seth Steffen, Chris Steffen, Cameron Carstens and Calina Carstens about the America's Darling project and Darling's legacy for young people.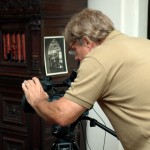 Making sure that the angle is right!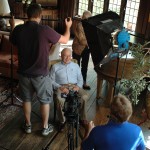 Maynard Reece prepares for his interview with the Marvo team.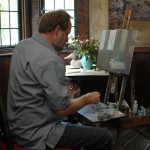 Chris Still works on a very special still life in the "Monk's Corner" of Darling's Des Moines home.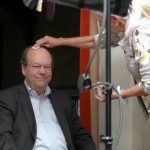 Dan Hunter receives a touch-up and is ready for his interview.
Sam with  America's Darling host, Chris Steffen, in the studio.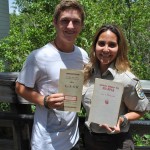 Toni Westland shares with Chris the story of her recent trip to Russia.