America's Gatekeeper: The Story of Paul Kroegel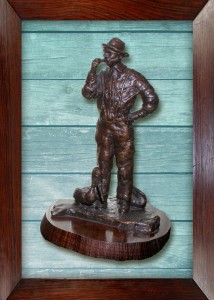 The Bronze by Rosalee Hume
Marvo has the honor of offering  for purchase a very limited edition of 24 bronze statuettes of Paul Kroegel created by the late artist Rosalee Hume in the 1990s.
This nine-inch-tall sculpture is identical to the life-size statue that stands in Riverside Park in Sebastian, Florida, near Kroegel's home.  Each statue is accompanied by a certificate of authenticity signed by Ellen Schmidt, Ms. Hume's daughter.
In 1999 one of these miniatures had the distinction of being selected to hang on the White House Christmas Tree.
Proceeds in part from the sale of this bronze will help support underwriting the documentary, "America's Gatekeeper:  The Story of Paul Kroegel."
To purchase, contact:
Samuel Koltinsky
phone:  270.625.6815
email:  sam@marvoentertainmentgroup.com