"Unfinished Study"
by Jay N. "Ding" Darling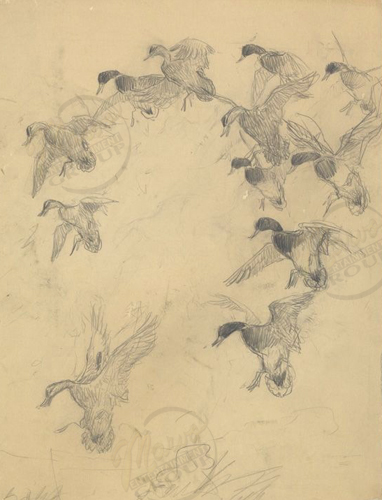 (Marvo logo is for viewing purposes only to prevent duplication.)
This unfinished study was discovered in 2012 by filmmaker Samuel Koltinsky as he conducted research for the award-winning documentary, "America's Darling: The Story of Jay N. 'Ding' Darling."  Part of a private collection stored and protected for decades, this study is one of the finest representations of Darling's pioneering studies of ducks in flight and has appeared in "America's Darling" and in its accompanying exhibit, The Hidden Works of Jay N "Ding" Darling.
In honor of the 80th anniversary of the Federal Duck Stamp in 2014, we offer this study in a limited edition of 300 numbered prints, each authenticated by Mr. Koltinsky's signature.  The price of $299 includes the 11×14.6 inch giclée print with the certificate of authenticity.
Proceeds from sales will benefit our continuing work in preserving Darling's legacy in addition to furthering the mission of stewardship and conservation.  Purchase Online.
Contact:
Samuel Koltinsky@Marvo Entertainment Group LLC
phone: 270.625.6815
email:  sam@marvoentertainmentgroup.com