Let's Paint the Town!
We Are Changing America's Landscape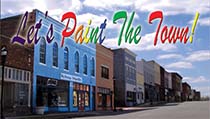 Princeton, Kentucky's "Let's Paint the Town!" project, a historic preservation/downtown revitalization effort, has the community rolling up its sleeves and volunteering in ways that would challenge any town in America. Brainchild of documentary film producer Samuel Koltinsky, "Let's Paint the Town!" has clear objectives: to enhance the downtown historic area, promote an appreciation for preservation, bring students from the local school system back "downtown," and stimulate economic development.
Years of alterations to the building facades had caused the appearance of a once thriving downtown community to deteriorate. Aluminum siding, wood covering second story windows and scaling paint had to be removed in order to expose the hidden treasures of the downtown buildings and park. Efforts were organized quickly in March 2006 to bring the community on board with plans for a "new look" to the downtown historic district. It was emphasized that with community participation, donated funds and volunteer labor, Princeton's downtown could be transformed. A decision was made that merchants would be responsible only for the purchase of paint for their buildings at a reduced price through the Porter Paint Program.
Evidences of accomplishment are as follows: (a) community volunteers from ages 14 to 80 have given over 6,000 hours working on 50 downtown businesses, (b) over 120 sponsors have donated over $65,000 (c) people are talking about their downtown historic area "coming back to life," (d) families are walking the streets in the evenings marveling at the structures uncovered from years of vinyl abuse, (e) students are writing essays on preservation, (f) public officials are showing off their town, (g) people are showing interest in some of our vacant buildings for future business and residential ventures, (h) the project has been recognized statewide through Tour Southern and Eastern Kentucky with $350,000 in grant monies and $460,000 in in-kind services bringing 43 communities on board, (i) Princeton received the Kentucky League of Cities 2006 Enterprise Award and (j) the project was recognized at the 2007 National Main Streets Conference as one of the "25 Great Marketing Ideas" in the country. With the onset of 2008, Princeton entered its third year of "Let's Paint the Town!".
In 2008 the Kentucky Heritage Council honored us with the Ida Lee Willis Memorial Foundation's Preservation Award "in recognition of the significant accomplishment involving the preservation and historic restoration through increased awareness and civic involvement" for "Let's Paint the Town!".
At the invitation of the National Trust for Historic Preservation, "Let's Paint the Town!" was honored to present our story to the nation in Chicago (2009) and Oklahoma City (2010) at the National Main Streets Conference.
Hear what people across the nation are saying about "Let's Paint the Town!" and check out this article in the August 2009 Kentucky Monthly.
Princeton, Adairville and Twin Cities as well as Portage, WI are all on board!
Also, enjoy our new video or even better… "Let's Paint YOUR Community!"