Mahr Park at Hidden Hills Farm Multimedia Project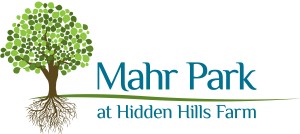 We would like to thank you for the opportunity to provide this one-of-a-kind project that will continue to reflect and enhance the Mahr legacy. These components have been researched and developed utilizing the Guiding Principles for Mahr Park.
-Your Marvo Team

The Documentary
Land, Leaders, and Legacies:
The Story of Mahr Park at Hidden Hills Farm
From Library to Land to Legacy—the creation of a Park to honor the land and legacies– -this was the dream of Glema Mahr who described herself as a farmer in her last interview with Marvo Executive Producer, Samuel Koltinsky. After moving to Madisonville, Kentucky, and deciding to make it their home, Dr. Merle and Glema Mahr purchased a farm in 1963; and Glema started out raising Angus cattle. She did the original planning of the clearing of the land, and her love of conservation took root in her soul. Both Merle and Glema fell in love with this rural western Kentucky treasure that they called home and chose to steward it according to the best practices of the day, creating the place that future generations could enjoy as much as they did. Her property manager, Danny Peyton, remembers, "Working with Glema for 18 years, the three lessons I carry each day are to value life, to keep learning, and to use all resources wisely. She believed that every life is valuable—each bird hatched or calf born, that we are never too old to learn, and that resources are not to be wasted."
A volunteer, an avid supporter of the arts and a true lady humbled by her daily walks and world travels–yes, this was Glema's dream to leave 265 acres of precious rolling meadows and beautiful native wildlife as a gift to the community who had given so much joy to her and her husband. Upon Glema's death in 2009, her dream became a reality as her beloved Hidden Hills Farm was designated to become a gift to the City of Madisonville, Kentucky.
What do you do with 265 acres of land in rural western Kentucky? This is where our story will begin. A Park in development, Mahr Park at Hidden Hills Farm, will be like none other when it opens in 2016. The journey of its creation through friend, artist and visionary, Barbie Hunt, along with the love of the land as evidenced by Dr. Merle and Glema Mahr will provide the basis for another extraordinary American story.