Mahr Park at Hidden Hills Farm

The Legacy Begins!
Merle and Glema Mahr were avid collectors of Artist Ray Harm's conservation artwork. We are celebrating Glema's birthday with the stroke of beauty and stewardship by sharing Ray Harm's Pintail.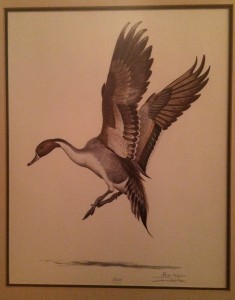 "As a child, I was outdoors with my father in West Virginia
learning about edible wild plants and identifying their use.
My father had a profound influence on my life. Other young people
should have been so lucky. I am a WWII veteran and went to art
school under the GI bill. I chose wildlife as subject because that is what I
knew best. Connecting with nature is wonderful. There is such a variety of
plant and animal life. Mahr Park at Hidden Hills Farm is an opportunity
to open the doors to wildlife and presents the opportunity to
learn, as my life long passion and artwork has illustrated."
– Ray Harm, Artist